There are days that will change your life forever. Marriage, births, career choices, deaths. But, there are other days that can change your life.

July 27, 2004 was one of those days for me. That was the day that I found out my granddaddy had pancreatic cancer. Hearing that killed me inside. I was a granddaddy's girl all of my life. And I wasn't ready to accept this diagnosis.

For weeks, I watched his physical health deteriorate. I watched as he emotionally declined. I watched as he fought for every day he could to be with those he loved.

I went to visit him on Saturday, September 11th. I sat on the floor beside his bed and we watched episode after episode of Game Show Network. He put his hand on the top of my head and rubbed my hair like he used to when I was little. For those brief few minutes, I could live back in the past. Back where everything is okay. Where Granddaddy was okay.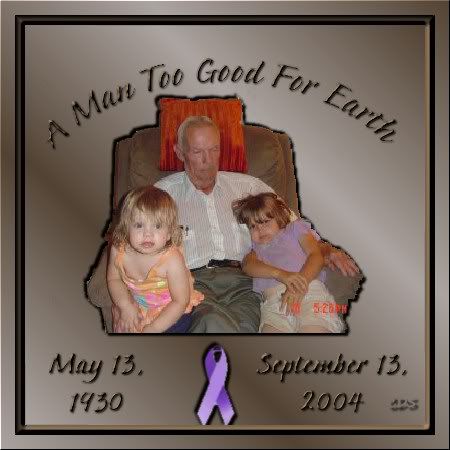 Just two days later, my life would change again. On September 13, my grandmother called me and told me that hospice had just left and he wasn't expected to make it much longer. I immediately found a sitter for my daughters and went to my grandparents' house.
Part of me wishes I had never walked into his room. But, part of me is glad that I did. I sat beside him and wrote every memory I had of him. From riding on tractors with him to fishing at the pond to digging up potatoes in the garden. I had my memories of watching Atlanta Braves baseball and him making me ham and cheese omelets. I had my memories of getting my first Polaroid camera. I had memories of sitting in his shop and building odd things with the scrap wood. I had my memories of him calling me to come stay with him while my grandmother was in New York because he didn't want to stay alone. I had so many happy memories.

I walked out of his room for just a few brief moments. Just long enough to talk to some family friends that had stopped by. By the time I returned to his room, he was gone. In just a few minutes a piece of my heart went missing.

My oldest daughter was six at the time. She was "Grandad's Girl" much like I was "Granddaddy's Girl". She spent just as much time there during her childhood like I did. I made the decision that she would not see him the last day. I wanted her memories to be the good ones. I wanted her to remember him as healthy and energetic and happy; not as the man I saw laying in the bed that day.


Pancreatic cancer took a lot from me and my kids. They took a wonderful man from us. In the weeks after his death and funeral, I researched everything I could on pancreatic cancer. I was lost and confused. How could we not have seen that this was coming? What did we all miss? I found the website for
Pancreatic Cancer Action Network
. I immediately signed up to volunteer with my local chapter. I bought items from their store. I
needed
to do something, anything. Just to prove to myself that his death would mean something more than just a great life coming to an end.
My granddaddy needed a cure. But, there wasn't one. However, I hope that there will be soon. There needs to be greater pancreatic cancer awareness. There needs to be as much focus on this cancer as other cancers. Did you know that pancreatic cancer is one of the leading cancers causing death? Survival rate for pancreatic cancer is low.
Beginning today I will post a pancreatic cancer fact on
Facebook
,
Twitter
, and
Instagram
. I want to spread awareness for this devastating cancer not only for the memory of my grandfather but for the
HOPE
of all the others who have or will have this disease.
In April, I participated in National Poetry Writing Month. One of our writing prompts was to write a poem from the perspective of another person. I chose my grandfather.
The Lucky One
I have been watching over you
For almost ten years now.
I've been with you in all you do,
That was my dying vow.
My family has always had my love,
And now, you also have my protection.
With you, nothing else came above.
I was never one to show much affection,
For that I truly am ashamed.
In my heart each of you holds a special place,
And for my shortcomings, you should never be blamed.
I was blessed with your grace,
And your undying admiration.
I am in a better place,
But this is my final acclamation.
I will always take care of you,
Just as I've always done.
I now know what everyone always knew,
With all of you in my life, I was the lucky one.
© C. J. Delessio 2014