1. Do you plan to change any of your eating habits in the new year?
No. I changed my eating habits in October. I have lost 20 lbs since then. I stay within my calorie limits and treat myself every now and then.
2. Any workout tips to get us back in shape after the Holidays?
Check out my Pinterest Board:
Gettin' Fit
I can't personally vouch for all of these, but they all look good. There's 84 pins on there.
3. What is your favorite thing you did over the Holidays?
I really did nothing over the holidays. I know, I know. I live such a boring life. I really, really do. I sat at home on Christmas and New Years Eve. On Christmas, kids opened presents and then we went out to eat. On New Years Eve, we watched the ball drop and then went about my business.
4. What is something you hope that you accomplish in 2013 that you did not in 2012?
Several things. First, I started a novel on NaNoWriMo. I didn't finish it. I hope to complete it this year. I also plan to begin another novel this November for NaNoWriMo and hope to complete that one during the required time. Also, I plan to do better school wise. I slacked a lot last year and hope to do better this year.
5. Name 3 things happening this year you are excited about and why.
1- Our vacation to Louisiana. Have I ever mentioned how much I love Louisiana? If everything goes to plan, we will be there for two weeks again including the last week of Mardi Gras.
2- My kids birthdays. This year, I will have a 15-year old, 11-year old, 2 8-year olds, 2 6-year olds and a 3 year old. Where is the time going?
3- PSY 480: Elements of Clinical Psychology Why, you ask? It's my last class of the year and it means I will only have two classes left before I graduate with my Bachelors in Psychology in 2014! Eeeek!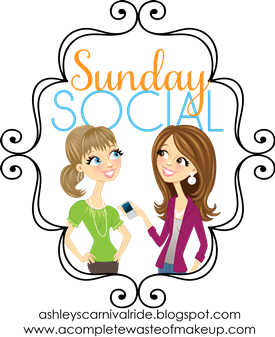 Linked up with Ashley's Carnival Ride and A Complete Waste of Makeup