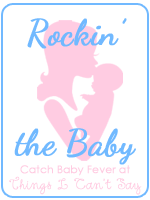 (Button by Jess at
The Frilly Coconut
)
Last month I participated in
Rockin' The Bump
with
Shell at Things I Can't Say
. This month she is hosting
Rockin' The Baby
.
I may be a little biased, but I think I have the 7 cutest babies in the whole wide world!
This is my oldest. She was about 10 months old in this picture. She was a little diva back then. Well, ok, she still is. She's 13 now.
This is Baby CS#2. She was 6 months old here. Today she is a wild 8 year old!
I considered doing CS#3 and CS#4 separately. But, then I saw this picture. They were 6 weeks old! I love it because CS#4 looks like she is talking away and CS#3 is asleep, ignoring her as usual! Today they are 5 years old. CS#3 is a tomboy and CS#4 is a prissy girl.
CS#5 and CS#6 are twins as well. But, I decided to do them separately because they are the exact opposite of the "2 peas in a pod" twin myth. They are both about 9 months old in these pictures. Today they are 3 years old.
CS#5 -- I love that little grin!
CS#6 -- A computer girl just like Momma!
And last but not least, we have CS#7, the baby. The only boy. He was 5 days old and coming home from the hospital. Now, he is 18 months old. Still, a little baby. At least to me.

See? I told you they were the cutest babies. Ever.