★Day 03- An experience you're not proud of, but has made you the person you are today.★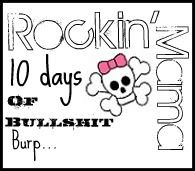 Wow... this is a subject that I have been dwelling on for the last few days. Because honestly, this experience randomly shows up in my head every now and then. {And I really, really apologize to my husband for this post because this is a very sore subject among us}
Back in June 2009, I started talking to this guy. Yeah, at the time I thought it was a great idea. He said all the right things. He made me fall for the lines. He then destroyed me emotionally. It took a few weeks, but I bounced back from it. I moved on. Kinda. He still stays in my mind. He still pops up front and center every now and then.
In all honesty, every so often over the last couple of years, I'd enter his name into Google. And I'd come up empty. I started to wonder if it was really all just my imagination and he never existed. Then last week, his name returned a LinkedIn profile. Complete with email address and twitter. But, I refuse to contact him. That's not what's important. I don't want him back in my life. I think it's more of a prove to myself that he was there and that I'm not missing a thing without him.
I'm not proud of being with him. For various reasons. But, it made me stronger. Made me view things differently. Made me who I am. Made me what I am.