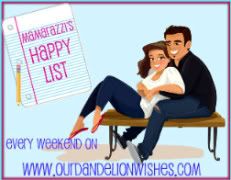 Image Credit: Jaimie Trueblood

It makes me HAPPY that Vin Diesel is getting a star on the Hollywood Walk of Fame. Because, in case you didn't know, anything about Vin Diesel makes me HAPPY.

Can we say "Road trip to Hollywood" in the future.
Where was I? Oh yeah, my happy list...
Well, these 6 for the most part make me HAPPY.

And this little guy, he is always doing something goofy to make me laugh which makes me

HAPPY
It makes me

HAPPY

when my kids all get along. Oh, wait that hasn't happened in reality yet. Well, the DREAM of it happening makes me HAPPY!
Well something else made me

HAPPY

this past week, but hey, a girl's gotta have her secrets! ;-)
So, what made YOU happy this week?