Since I last posted. I really don't know why. Maybe because I got caught up with school. Maybe because between school and kids, I just never had the time. Maybe because deep down I knew that the only thing I had to say was how much I was homesick. And really, who wanted to hear that for 90 days? Yeah, that's what I thought. I really wouldn't want to either. So, its been almost 3 months. And previous to that post, I wasn't really saying much to begin with. So let's recap:
September -- Carolyn turned 8 on the 23rd. It's hard to believe that she is almost in the double digits.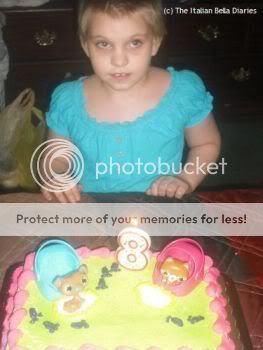 October -- On the 10th, Cheyenne and Courtney turned 3. Then on the 19th, Caitlyn turned 5 and Charlotte turned 5 on the 20th. Charlotte also lost 2 teeth a couple of days apart. it was the 2 bottom front teeth. Caitlyn is, of course, jealous. She has yet to lose a tooth. A few days after Charlotte lost hers, Connor got his 2 first teeth. Surprisingly, in the same location Charlee lost hers.
November -- I began toying around with the idea of changing my major. I narrowed it down to: Psychology, Social Work, or Journalism.
December -- The oldest 4 kids went down to Virginia to spend time with my grandmother. They stayed for 5 days. It was strange to have just 3 kids for almost a week. I finished up my 5th semester of a two-year degree (thanks, repeat courses). I decided that Accounting was not for me. I was honestly so sick of it, I dreaded doing schoolwork. So, I changed my major to Psychology. We went down to Virginia for Christmas. I also got an Android phone. And love every single second I spend on it (which is quite a lot).
January -- Well, this would be currently I guess. I started my spring semester under my new major. And am honestly loving it. i actually enjoy doing my homework now. I still really hate being in Maryland and cannot wait until I can leave it. The kids have been doing great as well. Except for their homesickness as well. And some attitude problems, which are probably related to the homesickness. Connor has grown so much and it's hard to believe he will be 1 year old next month. He is crawling like it's nobody's business. He pulls himself up on things. He can say Mama, Dada, Gimme, Nina (Tina), Carry (Carly) and Who Dat. I guess that came from watching a tad bit too much football with Mommy. Ooops... I believe he will be walking sometime in the very near future.